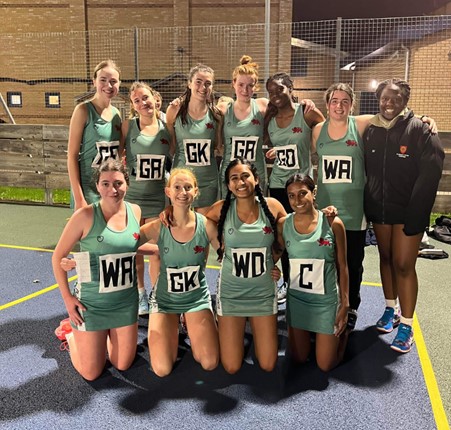 The Wrens have been such a joy to captain this term. With lots of new fresher faces, I know the returners have been super keen to foster team spirit, good vibes at training, and of course, lots of wins. I would deign to say we have been successful. Between team socials at Peterhouse formal, and supporting the musicians and thesps among us at various performances, it is clear to see that the Wrens are a team on and off the court.
Playing local clubs on outdoor courts is thrilling…to say the least. Unreliable taxis, vicious rain, and some biting cold, all of our players have persevered through the beginning of Winter! Particularly shoutout to our vice-captain Mercy Akinyele who is always ready with sweets, birthday cakes, and one of the loudest side-line cheers – we could not do it without her. Our matches have shown a real variety. Playing slightly older teams has presented a challenge in the adaptability of our pace and playing style, and our ability to play in a versatile way has developed tremendously I would say!
Our defence in particular has meshed together so well in such a short space of time; their communication in the circle is particularly impressive, with opposing shooters often getting incredibly annoyed by their constants, tips, tricks, and terrifyingly tall arms. In addition, with two strong wins and two close losses (shoutout to Astrid Williams for organising these matches – admin wizard!), the Wrens are in a good place to bulletproof the excellent set plays they have developed, as well as strengthening areas such as play-reset and midcourt to circle fluidity. Moreover, with Varsity coming up, the Wrens will be putting in maximum effort at training, more friendlies with the Swallows, and additional gym/court sessions in order to supplement our matches. As the first match of Varsity, we are determined to show O*ford the mighty club with which they are competing. All in all, a great first term, and a further paving of the way for a CULNC team in only its second year.
Maia von Malaisé
Wrens Captain